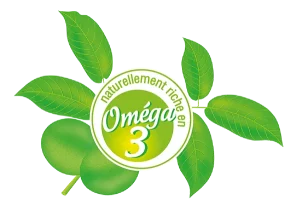 The nutritional profile of the walnut makes it a very interesting fruit from a dietary point of view.
Very appreciated for its flavor, the walnut is also recognized for its nutritional value: rich in polyunsaturated lipids (including the 'famous' omega-3) and antioxidants (melatonin and phenolic compounds) it also has a good magnesium and fibre content and also contains vitamins (E, B3, B5, B6).
Thanks to this nutritional profile, it is a very interesting nut from a dietary perspective and for the prevention of cardiovascular risks.
Average nutritional values per 100g of dry walnuts shelled
Energy
2870 kJ / 696 kcal
Fat
66,3 g
– of which saturates
6,1 g
Carbohydrates
6,3 g
-of which sugar
4,6 g
Dietary fibre
6,2 g
Protein
15,3 g
Salt
<0,01 g
Vitamin E
3,36 mg
Vitamins B1
0,37 mg
Vitamins B6
0,7 mg
Vitamins B9
99,3 μg
Vitamins B5
0,95 mg
Phosphorus
396 mg
Magnesium
146 mg
Iron
2,99 mg
Zinc
3,14 mg